This article is about the grave built in memory of the character Jasper. You may be looking for the character Jasper Spencer, Jasper's Charm.
Jasper's Tomb is a tomb that houses a grave for Jasper  which Levi had created in a secluded area on the estate of a mansion. This tomb was to remeber him and also for Alice to always remember the death of her fiancé.
This is the grave site of Jasper. He lived more than 4 years ago with his fiancé Alice Alford and twin sister Elica Alford. 
Alice would always visit the grave in memory of Jasper and often brought flowers to him; sometimes Ayame went with her. One day when they were visiting the grave, Ayame asked who Jasper was and why his grave was at such a place. Alice said that she was a very important person to Glen, (but later on, it is revealed that Alice was/is the one who loved Jasper, not Glen) and Jasper was in an arranged marriage with Alice which after he was murdered by someone who was never cought.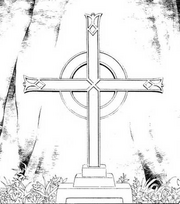 Ad blocker interference detected!
Wikia is a free-to-use site that makes money from advertising. We have a modified experience for viewers using ad blockers

Wikia is not accessible if you've made further modifications. Remove the custom ad blocker rule(s) and the page will load as expected.